7 WAYS FOR INTROVERTS TO MAKE MONEY WITHOUT LEAVING THEIR HOUSE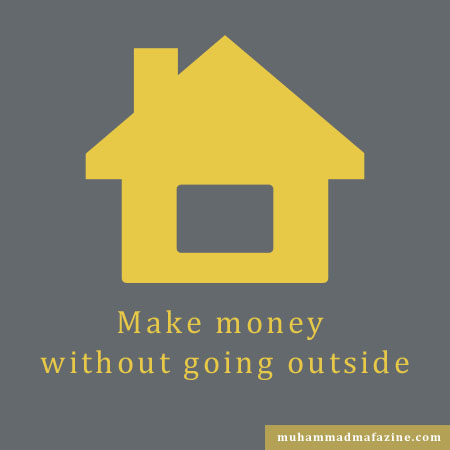 7 Ways for Introverts to Make Money without leaving their house – I am used to be an Introvert. Someone that shut in. And stood up behind the screen when any activities are come to society, and communication. I knew, introvert is not a good thing. It's not something I can proud of.
The meaning of Introvert itself cannot be categorized as someone has not social experiences. Being introvert meant you have something more interesting than social itself. Someone who happy with their own world.
1. Make Money By Writing a Story
Writing is efficient when no one around. It's suitable with the fact that Introvert often likes to be alone.
Anyone can easily write their stories. Introverts stories often more interesting to read. They are unique because being part of minorities of society. You can feel a social experience from sharing a story. People will read, and reply over your story.
Writing also improve yourself to be more confident. You will feel the cultivation progress on your writing. Feel relief about it, sometime awkward about it, and proud about it. While taking a part in personal development. Consider making money only impact of this activity. And the most important thing is, you have something to enjoy rather than doing nothing.
These are few ways to share your story without need to be published in a book store.
– Blog
– Communities
– Forum
– Write a Light Novel
2. Make Money by Sharing an Art
Not everyone have same skills. If you haven't good at writing. You may best at designing. If you are good at designing, I believe you can produce some art to share. Art I meant here can be Illustration, Characters, Comics, or just Mini Story. But it can also be a commercial design such as Banner, Flyer, Adboard, etc.
Sharing your art for free does not mean you wasting your art. Again, this is will gain you social experiences. The point of sharing an art is same with sharing portfolio. But you can find the people often leave their comments, rates, and some appreciates.
Many of employers seek their designer in art sharing sites. It's alternative for them to find qualified designer that match with their company requirement. If you have much of appreciated arts. It's very possible for them to select you as their designer
Two of art sharing sites only I knew are Behance, and Deviantart.
You may share it through your own personal sites. You can see there are many of site builder services that allow you build a site within few seconds. WordPress or Blogger are some of them that I recommend.
3. Make Money by Selling Stock Photos
You love photography ? Why not sell your stocks ? Probably there are many people outside that willing to spend their money to buy your collection. Especially, if the stocks are valuable for commercial purpose. Taking a shots won't need any social interaction. There are many objects you can find and have commercial value. Such as Nature, Properties, Technologies, Etc.
ShutterStock is the best website to choose. You will find many of potential buyers here.
4. Make Money by Teaching/Selling a Lessons.
You probably not good at teaching. But had a potential to create the lessons. You should have a good skills, experienced, good at communications, certified, and qualified enough to call yourself a teacher. But on the online platform. You won't need all of these. If you have skills, and experience. It's enough to create your own professional leason.
You are good at drawing or video creation ? Why not teach others to do so ? Beside helping others. You can make money from it. That sure interesting to make money while things can help others as well. Agree ?
Another reason why I include teaching a lessons is a fit for introverts are: Sometimes you have great at teaching, but just cannot appears in public confidenty. You have no self believe. But, You believe that you had an ability to create a lesson. The form of lesson itself can be videos, eBooks, audios, or whatsoever.
Some of platforms let you sell courses online :
5. Make Money By Promoting Affiliate Products
Amazon is the biggest online store as far I know. Amazon.com open for anyone who want to promote their items. In return, you will earn a commission. You can try by advertising their product through your own blog, social media, or even mouth-to-mouth.
You can find many tutorials to teach you earn money by promoting affiliate products. Not only amazon, you can't even count how much the stores that let their visitors/users to promote their products
Some tools to be prepared to promote the products without social interaction :
– Blogs
– Online Store/Amazon Sites
– Social Media Accounts
6. Make Money by Become an Editor
The other online career that no less interesting is become an Editor. This job is suitable for you that mastered the grammar, wording, etc. You can trial your skill by editing existing eBook written by an Amateur.
I doubt you can practice with a famous eBook, but go ahead if you have confident enough. You can go to offer yourself to publishers after 100% sure of your ability. There are many of them recruiting an editor that works on part-time/freelance basis.
7. Make Money by Become Freelancer
Final ways for introverts to make money is a pick freelancer as a career. When I said career here, it's really a career you and others usually do. I am a Freelance WordPress Developer. I am used to be an introvert. But still able to manage my communication with clients very well.
Becoming a Freelancer let you works freely. You can make money while wearing pants and enjoy your coffee. But it also require you to have additional thing. And it is Communication.
These are few of famous sites to works as freelancer. There you can find many projects relevant with your skills set.
Anything mentioned above are the most reasonable for me as an Introvert. They are the alternative ways for Introverts to Make Money without leaving their house